Calgary's premium deck contractor
Our mission is to deliver projects of the highest quality that are designed to meet our customers' desires in Calgary and its surrounding areas.

From the very start, we have built a reputation of being Calgary's premier deck builders. This is thanks to our meticulous work and putting our customers' total satisfaction above all else.
Our passion for construction is not new. The owners of Deck King began building decks in their teens and have had 20+ years of opportunity to learn, grow and now expand their love for this industry.
Although we've grown into one of the largest deck building companies in the city, we still tackle each project with the same passion and excitement we've had from the start!
Give your family the perfect deck and contact our team today.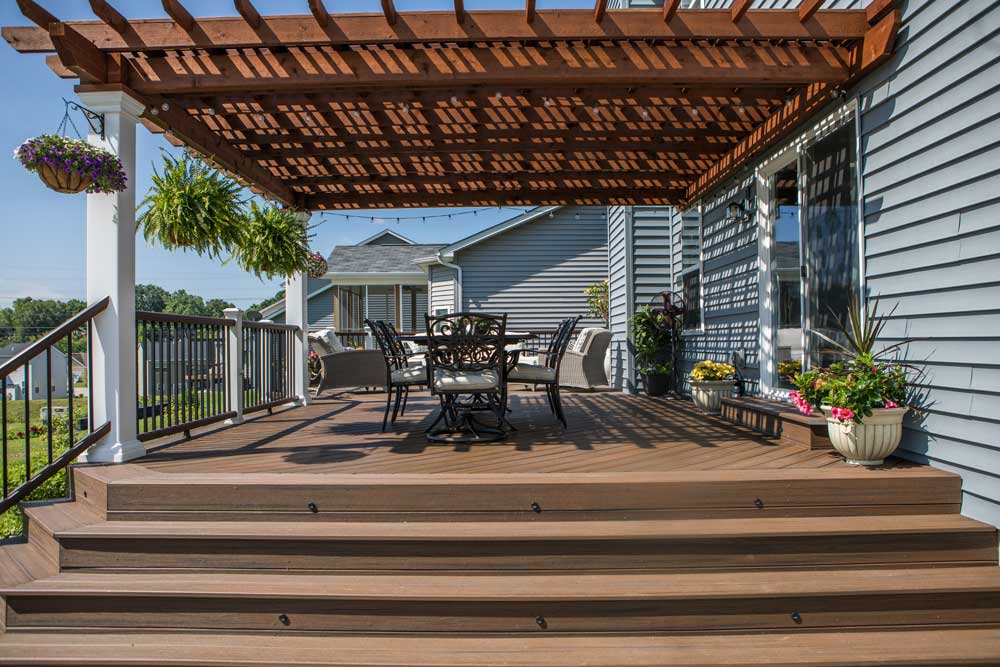 Our consultation starts with you. We know you've looked at pictures on the Internet. Perhaps it's a neighbour's deck that got you thinking. Whatever the case, we want to hear all about your great ideas and how you want to utilize your outdoor space. After an initial call, one of our deck experts will come out to your property to see your space and discuss your deck project. Whether you're shopping for a hot tub deck, multi-tiered deck, rooftop deck, walkout basement patio, or any combination, your family deserves the best version of your vision. We will explore design and layout, material preferences and potential accessories. Once we have captured the scope of the project, our digital software makes the approval process, communication and document sharing very convenient and user friendly. 
This is the easy part. With all the details and paperwork out of the way, let the construction begin.  Our team will keep you up to date with your daily schedules and our crews will introduce themselves as they come to site. All necessary materials will be moved into the space and work will commence.  All our work is carried out by qualified tradesman to ensure your new deck will be built to the highest standards and to Code. Once construction is complete, the site and deck area are thoroughly cleaned and all debris and remaining materials are removed. Final inspections (if required) are completed and approved and your space is now ready for you to enjoy!!! Whether its wood, composite or vinyl, our decks will compliment your home and landscape. 
Its time to enjoy your oasis worry free. Quality and craftsmanship are the back bone of our company and we stand behind every installation with an industry leading Lifetime Workmanship Warranty.
As a landscape Contractor I sometimes rely on help with bigger projects from other reputable contractors. Deck king is as good as they come. Excellent to deal with and amazing work, which reflects great on me with my customers being extremely happy. Highly recommend.
- michael milo
Posted on google
00:26 02 Mar 23
We were doing renovations on our new home, and hired Deck King to build the deck, planters and also the cedar cladding at the front of the house, we are so delighted with the finished product. Noel and Brady were great to work with from start to finish.I highly recommend them to everyone
- Monica McCarney
Posted on google
18:06 28 Feb 23
Outstanding work from Noel and Mike! 10/10, would use these guys again in a heartbeat. They know their stuff! On the first day, they identified some concerns and some better solutions to the plans drawn up by our contractor, and then throughout the build, they brought up other ideas as we conversed more. So knowledgeable, and their craft speaks for itself. Gorgeous work.
- Jason Brown
Posted on google
21:59 17 Dec 22
Brady and Noel were super professional and accommodating in remodelling and constructing our deck. They took our ideas and took their work to a whole other level. Couldn't be happier.10/10 will recommend these guys!
- Anthony Iuliani
Posted on google
18:56 22 Aug 22
Noel and Mike were fantastic. Noel was introduced to us by our contractor. From beginning to end, we felt at ease. Noel was able to conceptualize and bring to reality this 2-level deck and pergola. Care and quality of workmanship are evident. Thank you so much Noel! Obviously, we would recommend Deck King to others.
- Paul Kong
Posted on google
04:23 11 Jul 22
We are just so impressed!! We extended our upper deck and they built a huge lower deck area and pergola. I found Deck King online and right away Brady came out for a quote and was on time, answered every text , every question I had got everything done so fast!! The guys came to start building the deck they did it so quick we're here at 9 AM every day walking in to the yard I was so impressed they did amazing and good quality work. We are so happy I would highly highly recommend Deck King to anybody looking to redo their deck or patio they were just amazing to deal with I'm just so blown away and impressed!! They killed it !!! Very amazing company to deal with!!:)
- Sophia D
Posted on google
21:17 30 Jun 22
If you are in the market for a deck, make sure you contact Deck King first! Brady and Noel ( Mike ) are absolute professionals with great design ideas and attention to detail. The construction process was meticulous with consultation and ideas brought forth during the build to ensure the final product is all you want and more. We have had so many people walk by and comment how great the deck looks and even had other contractors comment on the build quality and take design ideas for their own projects. We highly recommend Deck King, they will be the only Company we contact for future projects.
- Maureen Briggs
Posted on google
13:43 26 Jun 22
Noel and Brady are great to work with, professional and courteous. They have a great consultative approach to helping you decide exactly what you want in a deck. Installation proceeded promptly and was completed on time. And they followed up afterwards to ensure there weren't any issues. I'm happy to recommend them to anyone who is looking for a new deck.
- Alfieri Negro
Posted on google
21:20 30 May 22