– Bronze – Rain – Grey – Pinhead –

– White – Yard Bronze – Black –

MicroPro Sienna Brown Pressure Treated Picket Railing – Standard 42" Height, 4×4 Posts, 2×4 top and bottom rails, 2×2 vertical pickets with 2×6 top cap (2×4 top cap on stairs)
Cedar Picket Railing – Standard 42" Height, 4×4 Posts, 2×4 top and bottom rails, 2×2 vertical pickets with 2×6 top cap (2×4 top cap on stairs)
Wood Privacy Walls – MicroPro Sienna Brown Pressure Treated and Cedar – Standard 6 FT Height, 4×6 posts, Vertical or Horizontal 1×4 or 1×6 slats, 2×2 or 2×4 frame and 2×6 top cap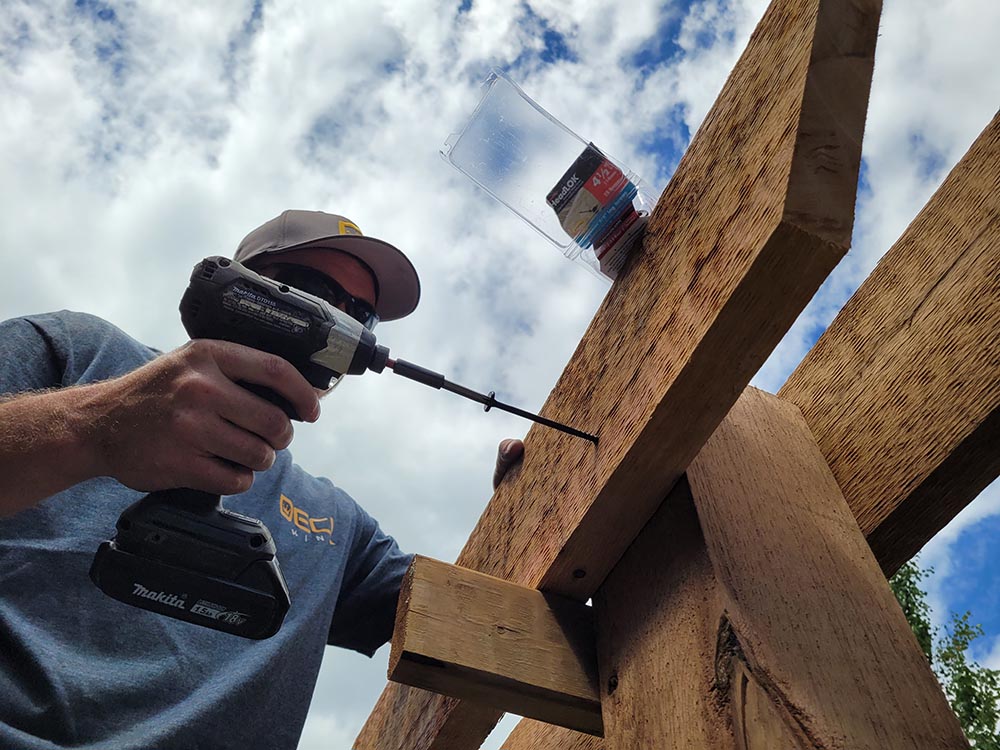 Aluminum Railing Systems are engineered with a 4-6" base plate welded on to the bottom of each post with 4 to 6 anchoring points depending on the height and configuration of the railing or privacy wall. Blocking is added below each anchoring point, and the railing is fastened to the structure using specially designed stainless steel hex head lag screws with rubber gaskets and washers, ensuring a snug fit that will stay secure over time.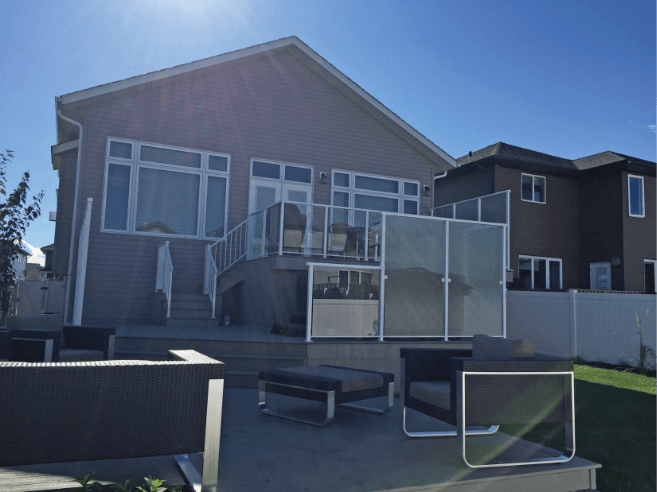 Wood railings are constructed with 4×4 or 6×6 Brown Pressure Treated or Cedar posts secured through the joist system, cross blocked and fastened with structural screws of appropriate length and tensile strength to guarantee a secure and solid railing. Many different styles and designs can be created with this mounting system.
Wood Privacy Walls and Windscreens use a similar method of anchoring, but we go one step further due to the height of the walls and the force created by wind and other elements. Concrete pilings are installed below the deck structure, 4 feet deep and approximately 18" below grade and the posts continue through the joist system and sits directly atop the concrete footing where they are anchored with an exterior grade bracket and back filled with 18" of dirt. This helps with the uplift and lateral forces created, keeping your walls true, level and incredibly resilient.