Deck building services - Calgary , AB
Do you plan to build a deck on your property? That's a great idea! Decks are perfect if you want to spend some time relaxing, sharing with the family, or just resting after a long day of work.
In addition, decks can add value to a new or existing home and transform backyards into more functional spaces!
However, you may still have some questions about decks and what to know before building one, right?
We want to help you!We are a Deck contractor first and formost , with solid customer base in Calgary, Alberta, and the experience to build the deck of your dreams using the premium materials.
Whether you need help with the entire deck building process or just a part of it, we can provide you an estimate! We have the experience with Calgary Deck's. Our construction crew can provide answer to questions you may have. 
Construction : TYPES OF DECKS WE CAN BUILD
There are a lot of different types of decks! Also, depending on your requirements or your outdoor space's size, you can make some modifications to have a custom structure.
Also you will need to choose between  a : Wood deck –  Composite lumber deck
In any scenario, these are the types of  decking you can choose:
Similar to a traditional wraparound porch, this type of deck often "wraps around" the house, either on two sides or the entire house.
Wraparound decks are also larger, smoother, and extend into the property's living space. In addition, these structures favour air circulation!
Attached decks can be similar to patios. However, they are usually made of wood or wood composite.
This type of deck is usually attached to properties' backs but is common in L-shaped and U-shaped houses.
A detached deck can resemble a small island. These structures work well in those areas with access via stairs or if there's a pathway.
In addition, they can be the perfect solution in areas with bumpy and rocky terrain. Complemented with landscaping flowers or plants, these decks are beautiful options!
Also known as two-story decks, these structures are perfect for those with large properties.
These decks have different levels connected by steps or paths and can maximize the space you have on your property or add visual appeal!
Rooftop or Over Garage Deck
Do you have a flat roof on top of your garage? If so, having this type of deck is the best way to go!
These decks are ideal for urban dwellers! Plus, they offer the best views, more privacy, and are cooler!
Contractor : WHY CHOSE US
Finding a reliable deck contractor is not difficult! Also, if you want to save time, you can call us and check by yourself that we meet these criteria.
Our team has extensive experience and the best tools to build decks adapted to your needs and tastes. In addition, we can estimate a fair price and discuss all the details, so you know where every penny of your investment goes!
If you have already chosen the right contractor, you have the budget and the perfect design, what is the next step?
Before building a deck or hiring deck building services, you should keep a few things in mind to avoid mistakes and get the best results. These are:
Why Build a Deck? Know the Benefits!
You have to think about too many things to build a deck at home, but it's worth it! Do you want to know why? These are some benefits that these structures bring!
Deck Building Process Explained: The Steps We Take
Have you already made a decision? That's great! It's time to get to work. If you choose us, these are the steps we go through in a deck building process:
Common Deck Problems and the Best Solutions to Fix Them
Even the best decks can have some problems. However, there's always a solution. Here are some:
Do You Need Some Deck Design Ideas? Find Some Here!
Do you want your deck to be unique and catch all eyes? Here are some design ideas you can consider: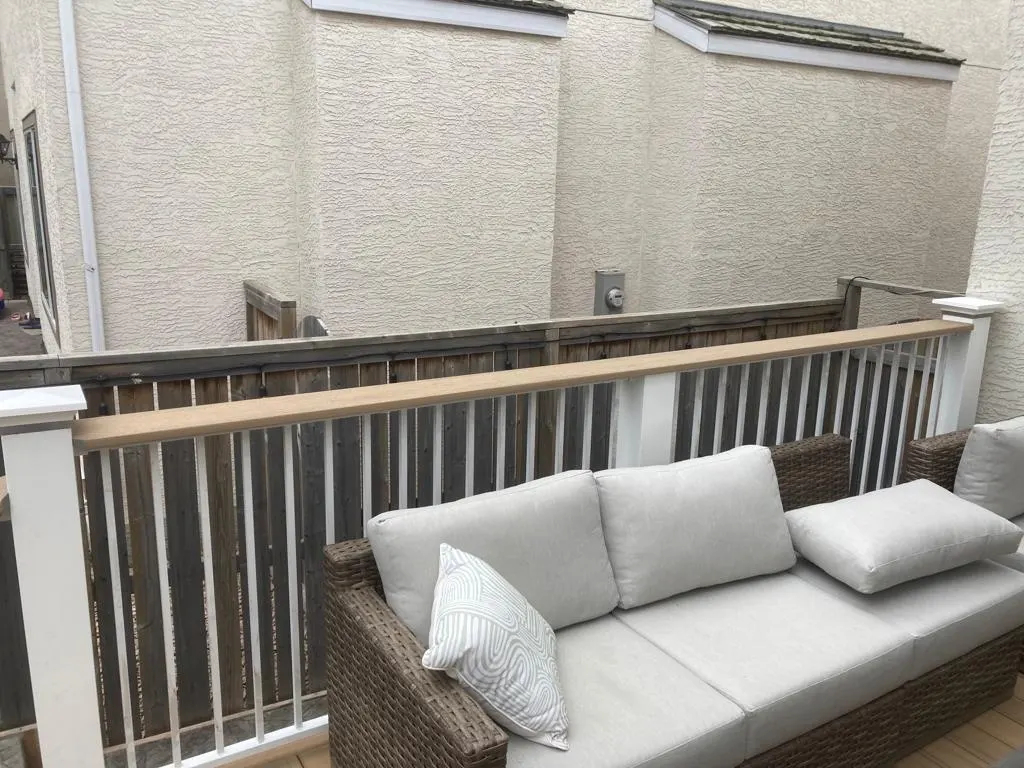 If your deck's style is traditional or old-fashioned, you can add a unique and eye-catching touch with modern railings.
Some have black balusters that combine perfectly with wood railings. Calgary,AB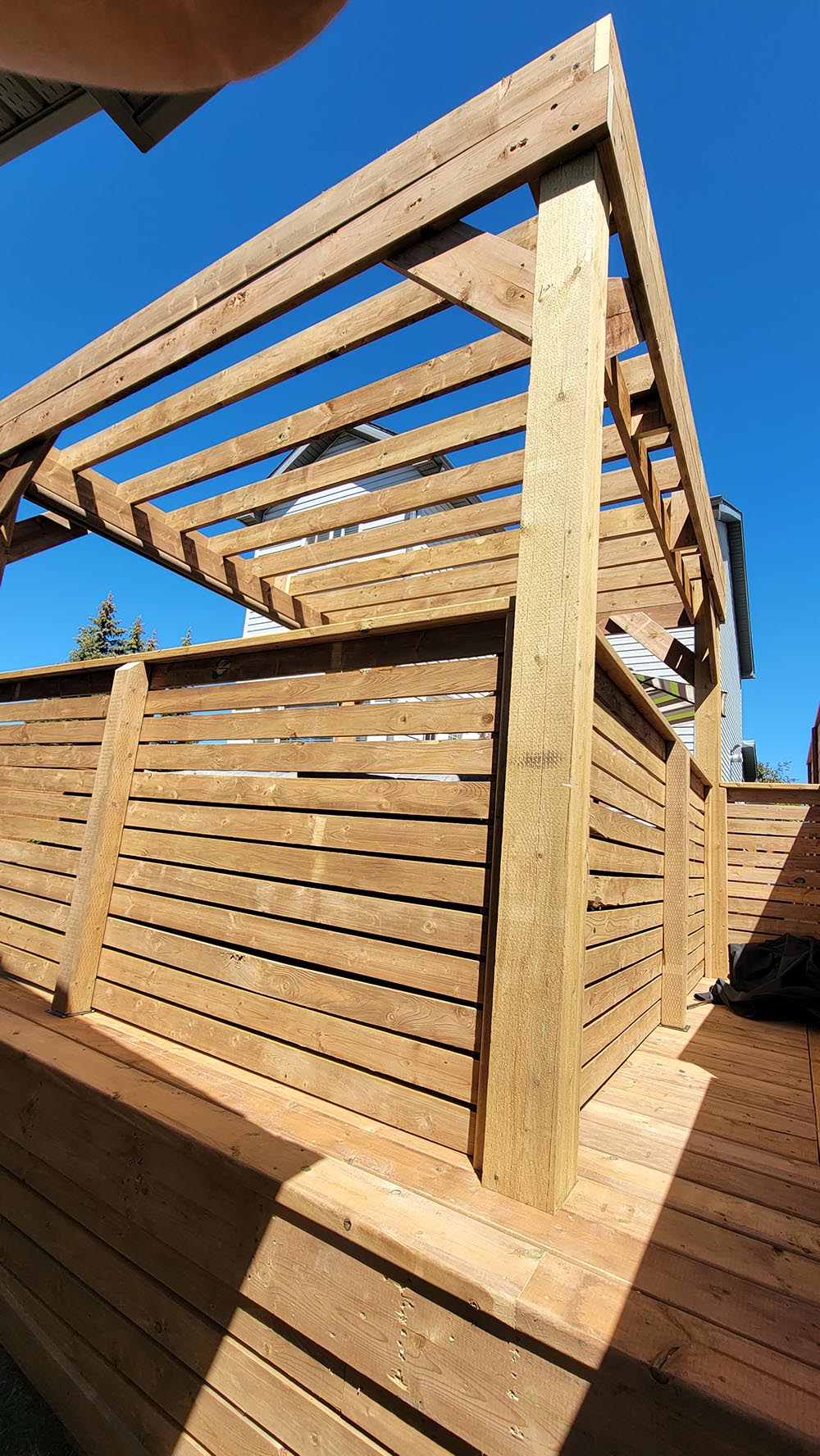 If you are concerned about your privacy or have a built-in hot tub on your deck, you can add a privacy fence by converting the railing into a screen that blocks views.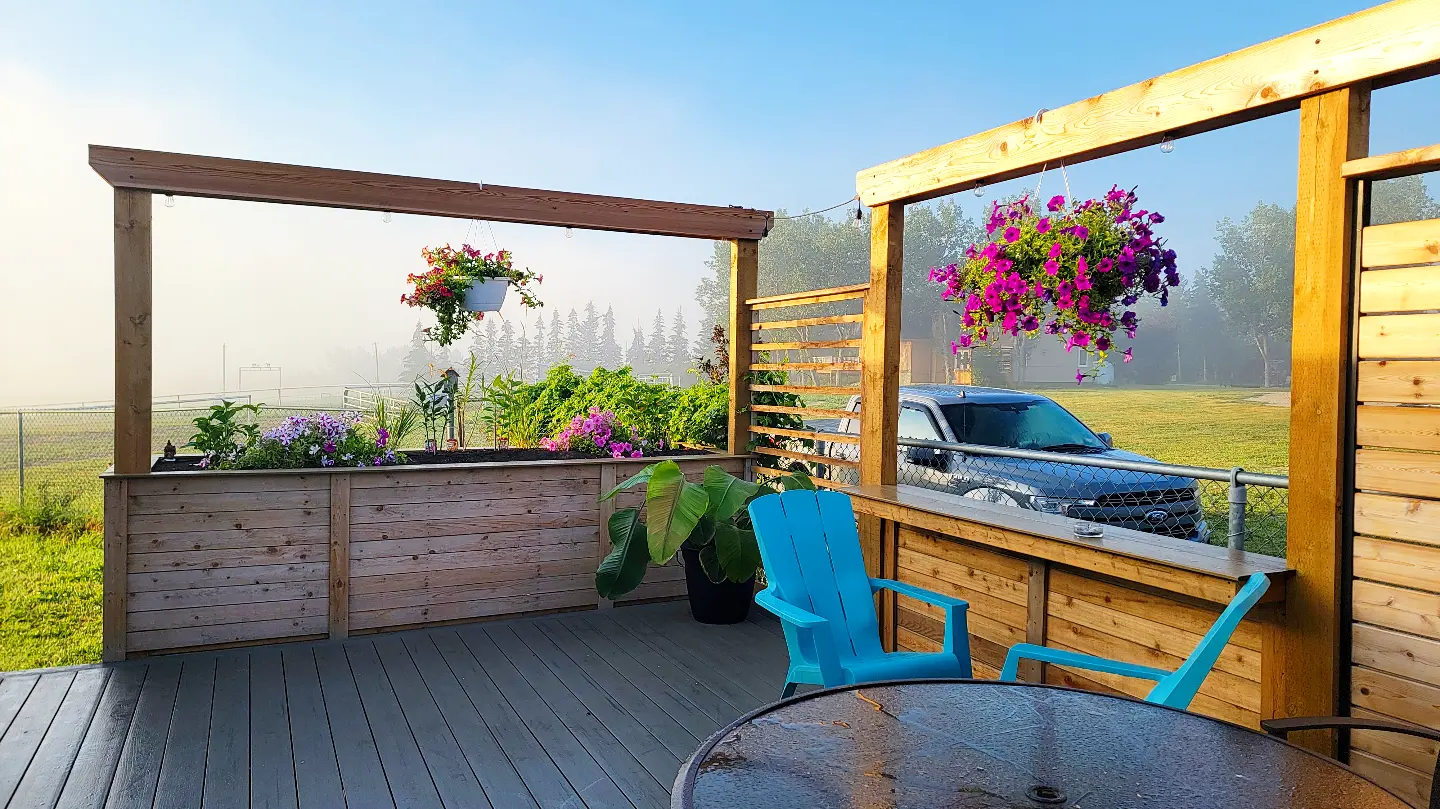 It's a great option if you need a space to relieve yourself from the sun. Some decks have been adapted to provide both a shaded and an open area filled with sunshine!
Frequently Asked Questions about Decks
If you have more questions about decks or our deck building services, check out our FAQ section:
Yes, you can build a deck yourself! However, you should keep in mind that while building a deck yourself can help you save money, hiring contractors is the best option if you want better results.
Do I need to Permit to Build a Deck?
Depending on your city's regulations, you may need a permit. Therefore, before starting the process, you should ask for information about the security codes. This way, you avoid violating any regulations while building your deck.
How to Know If the Contractor I Chose Has Experience in Deck Building?
If you are going to entrust such an important job to others, you must make sure that they know how to build decks, right?
If you want to find out if the deck builders you chose are experienced, just ask all the questions you have in your head and find out if they really have enough knowledge to offer the service you need.
You can also ask them for photos of the decks they have built before, check their portfolio, and look for reviews online to know other clients' experiences!